Maryland – May 2019 Market Trends Report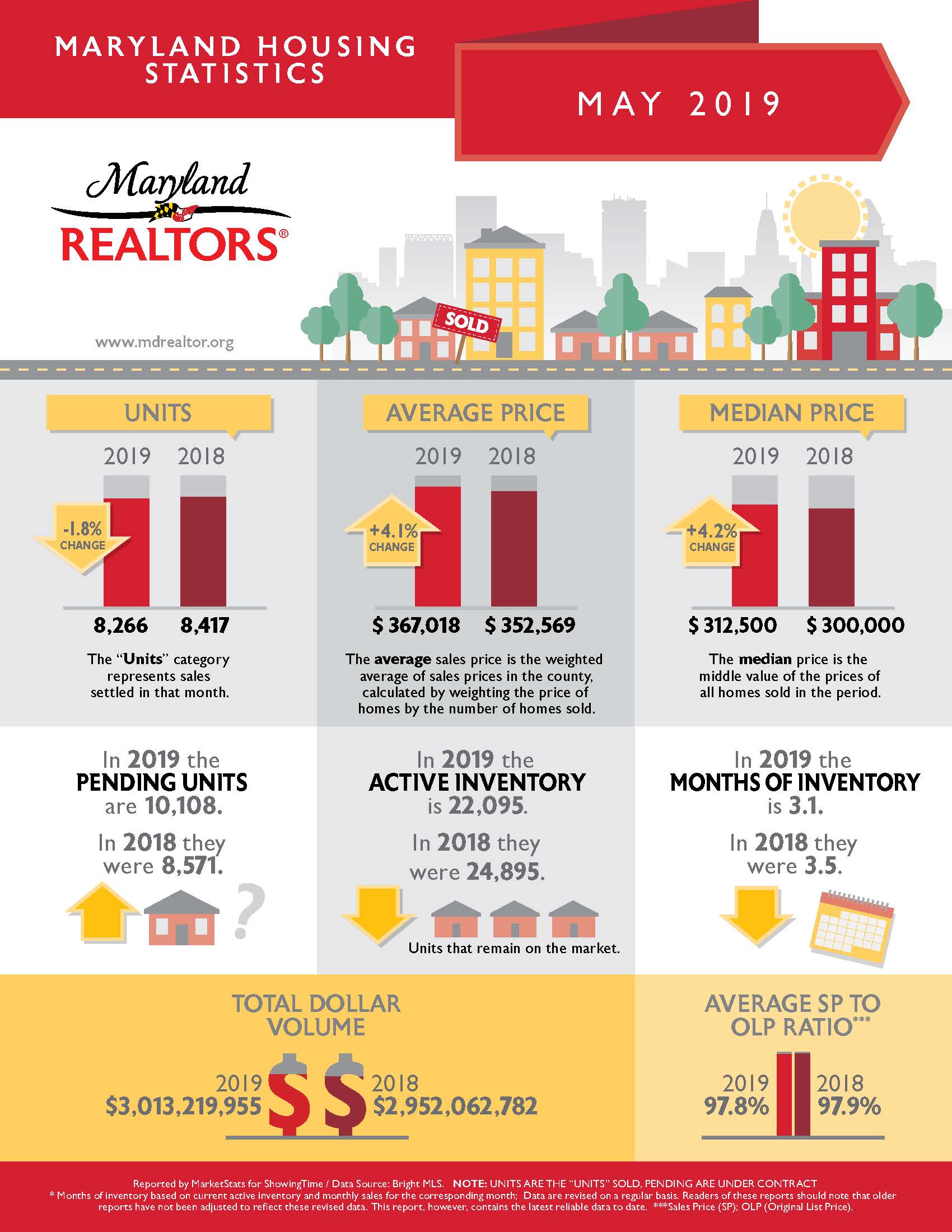 Residential home prices climbed in May compared to the same period in 2018, according to housing statistics released by Maryland REALTORS®. Average home prices rose by 4.1 percent while the median price increased by 4.2 percent as compared to the same time in 2018.
"The units pending (units under contract) jumped to 10,108 from 8,571 in 2018, while active inventory decreased from 3.5 months in 2018 to at 3.1 months in 2019," continued Tobin. A 6 month to 6.5-month supply is considered to be a balanced market.
Of note, units sold experienced a drop of 1.8 percent due in large part to the drop in settled sales in Baltimore City as a result of the widely-reported ransomware attack.
"The average and median housing sale prices both climbed at reasonable rates in May", said Maryland REALTORS® President Merry Tobin.

The May statewide average sales price was $367,018 compared to $352,569 in 2018, while median sales price increased to $312,500 from $300,000. Added Tobin, "This jump of 4.1 percent and 4.2 percent, respectively, is robust and may, in the long term, have a negative impact on housing affordability."
The Average Sale Price compared to Original List Price for May decreased slightly from 97.9 percent to 97.8 percent in 2019.
Washington, DC – May 2019 Market Trends Report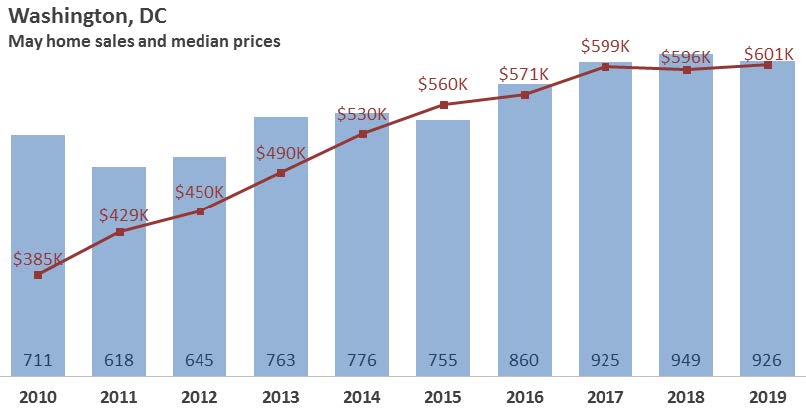 May's median sales price was $600,555, up slightly from last year's median and ranks as the highest May level in the past 10 years. The 926 May sales represented a 2.4 percent decrease versus last year and a 4.9 percent increase over the May five-year average of 883. The 3,710 cumulative year-to-date sales are 2.0 percent more than the number sold through May of last year. There was a 4.5 percent increase in contract activity compared to last May. The 996 overall new pending sales topped the five-year May average by 2.1 percent. The 1,571 active listings represent just 2.2 months of supply. Closed sales were down in all three segments compared to last May.
Montgomery County, MD – May 2019 Market Trends Report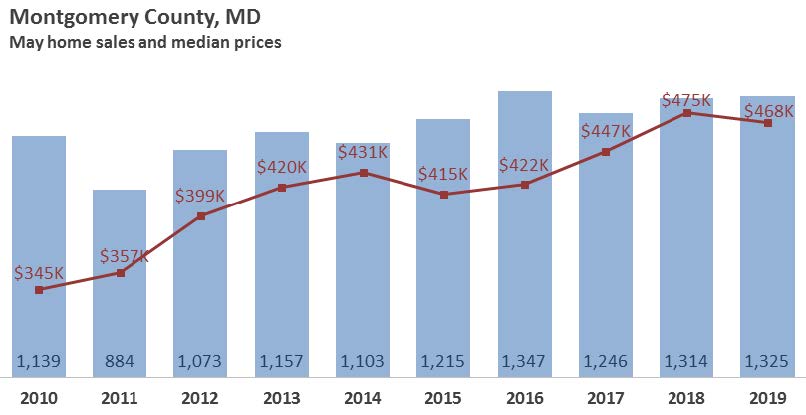 May's tally of 1,325 closed sales were above last year's level by .8 percent and above the five-year May average by 2.8 percent. The 1,572 new pending sales marked a 3.6 percent bump over last May and held above the five-year May average by 1.7 percent, or 26 contracts. There were 2,084 new listings added in May; 9.6 percent more than last May's mark. The 2,432 active listings increased from last May's active listing total of 2,394 (1.6%). The 2,432 active listings heading into May represent 2.5 months of supply given the average sales pace over the last twelve months, favoring the buyer slightly more than the 2.3 months of supply last May. The $467,750 median in May was 1.5 percent lower than last May's median of $475,000 and represents the second highest median price in the past 10 years. The average sales price in May was $575,783, a .5 percent increase below the May 2017 average of $578,891. Closed sales increased in the townhouse segment and declined in detached and condo/coop segments.
Prince George's County, MD – May 2019 Market Trends Report

May's 1,056 recorded sales resulted from much stronger than average Pending Sales, as reported in the first 5 months of the year. Pending Sales for the month (1,265 units), while strong, dropped very slightly along traditional seasonality lines. In all, an impressive $343 million in homes were sold by PGCAR members in May. The Average Sold Price grew by 8.4% from the same period in 2018 to $325,708, yet another positive indicator.
Source: Greater Capital Association of REALTORS®, Prince George's County Association of REALTORS®, Maryland REALTORS®